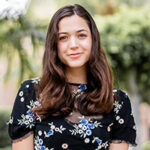 My name is Sequoia Lynch, I have just graduated from Life Pacific University with a Bachelor in Mass Communications. I currently work with my father at Southland Window Cleaning Company.
​
The Whittier Student Chamber empowered me. It gave me the resources and opportunities to become the person I want to be. I remember the various workshops the Chamber held for us, workshops for resume building, strength finding, and more. They opened my eyes to a new world and helped me think like a business person. They instilled in me the idea that I could become anyone I wanted to be.
While at the Chamber I have the opportunity to partake in their student leadership, and during my first year there I had the amazing privilege of becoming the Vice President of the Student Chamber. The conversations I had with Lori Eshilian and some of the chamber representatives about how we can make the student Chamber better stay with me even now. They gave me an introduction to how to think like a leader, which has opened the door for other amazing opportunities. In my senior year of college, I became the Associated Student Government President for the whole school. The Chamber was foundational in giving me the skills to do this.
The Whittier Chamber funds a scholarship for Chamber students every year. I got this scholarship in my senior year, in 2019. It was the first scholarship I earned, and it put me on a path toward success. If you are considering donating to this scholarship, do it. I am living proof that it impacts lives and puts students on the right track. I am so thankful to everyone who donated to this scholarship in 2019, whether they know it or not, they changed my life.